Cumbria's leading hog roast caterers
It doesn't get much better than Cumbria for a fantastic place for hosting outdoor events, and it doesn't get much better than Spitting Pig Cumbria when it comes to providing delicious mobile menus for any occasion. Thanks to our unbeatable gourmet hog roasts and varied catering packages, we are equipped to provide top-quality catering services for any type of event in Cumbria. Our creative, reliable and versatile team can be depended on to deliver impressive results in any setting and for any number of guests for your event in Cumbria.
Beautifully cooked hog roasts for any occasion

The specialist Spitting Pig chefs are masters of our craft and can produce sumptuous and succulent pork every time we are asked to prepare our signature dish. The perfect hog roast always begins with the selection of the highest calibre pork, and we are lucky to have strong relationships with the best UK meat producers, whose free-range environments and ethical rearing methods adhere to our own strict standards when it comes to the provenance and quality of our hogs.
We treat our superior product with the respect it deserves and cook it with patience and precision for a number of hours (sometimes almost a whole day depending on the size of the hog) until it is falling off the bone and an irresistibly crunchy layer of moreish crackling has formed across the top. We always prepare our hogs onsite, giving our diners the chance to see the amazing cooking process and appreciate the quality and freshness of our hog roasts for themselves. We are able to cater for any number of guests, from incredibly large-scale outdoor events to smaller private parties and more formal outdoor dining.
Events we cover
Whatever event you have in mind, if you want the best hog roasts in Cumbria and a tailored menu that meets your needs, Spitting Pig Cumbria will be able to provide it. We offer complete catering solutions on any scale for events including local festivals, outdoor concerts, sporting events, regattas and farmers markets, as well as elegant al fresco wedding catering and freshly made food for any style or size of private party. We also offer flexible corporate catering for company-wide events, staff parties, conferences, team building days, business lunches and more.
We are able to cater for such a broad spectrum of events, because we are continually developing our catering menus and making sure that we offer food that pleases all tastes and diets, as well as showcasing our superb hog roasts. Please check out our menus section and About Us page for more info on the exciting tailormade menus and variety of freshly made fare that we offer here at Spitting Pig Cumbria.
Market-leading hog roast machines available for hire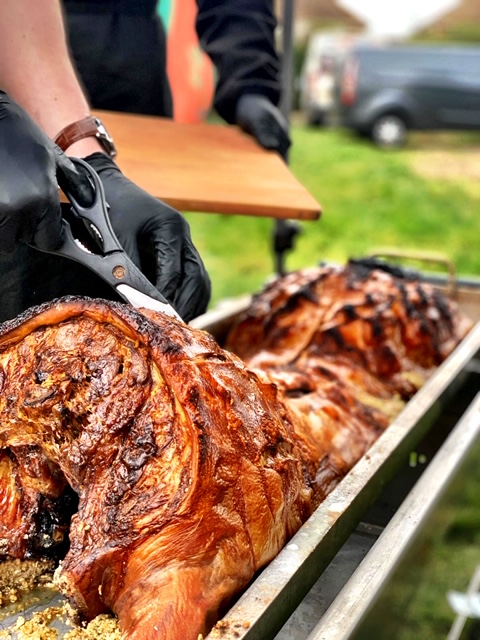 Spitting Pig Cumbria never accept second best in any part of our hog roast catering services, including the equipment we use. We are fortunate enough to have the most advanced hog roast catering equipment available on the market, which is made from the highest-grade stainless steel and designed to be 100 percent durable, robust and reliable in any catering situation.
It is in part thanks to our hog roast machines that we are able to provide such wide-ranging catering services in Cumbria, and if you would love to have a go at being a hog roast chef yourself for the day, we can fulfil your wishes. In addition to supplying our own popular onsite event catering, we also have a range of hog roast machines available for hire. Whether you are a professional event caterer who wants to try one of our machines out before buying one for yourself, or you are simply seeking an impressive self-catering option for a party you are hosting, we are bound to have a hog roast machine available for hire that meets your requirements. To find out more about hiring a hog roast machine on either a short- term or long-term basis, and which models we have available please contact us here at Spitting Pig Cumbria.
How to book us for your event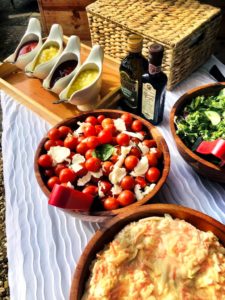 Spitting Pig Cumbria are available for events all year round, whatever the weather. If you want to make a provisional enquiry or give us an overview of what you need and the date of your event, you can fill in the quick query form here on our website and a member of our team will get back to you soon.
If you would like to speak to us about our hog roast catering services or machine hire packages in more detail or you need some guidance from our event planners about the most suitable options for your event and your budget, please feel free to give us a call or send us an email, and we will be only too happy to help.
Once you have decided on what you want for your event, we will offer you a free no obligation quote for our Hog Roast Cumbria catering services, and we're sure that you will be just as pleased with the price as you will be with the quality of the food we provide for your big day!